Work Health & Safety – Our Commitment
At Swift Personnel we are committed to the health and safety of all employees and our goal is to create an injury free workplace. This is achieved by eliminating or reducing hazards through effective risk management and consultation guidelines. We have stringent policies when establishing new relationships with all of our clients, as the safety of our employees is top of the list.
Where necessary, we facilitate WH&S cultural changes, appreciation and continued awareness with both our clients, our own staff and job seekers.
Primary Goals with WH&S
To comply with all relevant statutory requirements
Provide adequate resources to establish and maintain safe systems of work
Perform risk assessments at all client sites
Continuously improve performance through assessment, education and good management practices
Provide health and safety induction and training to employees
To regularly visit clients and staff on-site to discuss WH & S and inspect the working environment
OCCUPATIONAL, HEALTH & SAFETY – Legislation
The Work Health and Safety Laws (WH&S) have replaced the OH & S from 1 January, 2012. WH & S is based on the principle of duty of care to all people in the workplace including visitors. It covers all NSW workplaces.
Planning for the prevention of workplace accidents, injuries and illnesses is the basis for applying the duty of care principles.
Employers are to ensure the health, safety and welfare at work of all employees and others who come on to the work premises. They should take all reasonable and practicable measures to control risks against all possible injuries arising from the workplace.
Work, Healthy and Safety Tips
Tip 1 – Personal Protective Equipment (PPE)
To reduce risks and exposure to hazards workers should wear PPE appropriate to their working environment.
PPE includes such items as:
Head protection (hard hats, fire-fighters helmets, cricketers helmets, broad brimmed hats)
Hearing protection (ear plugs, ear muffs)
Respiratory protection (filter respirators, air-line respirators)
Foot protection (safety shoes and boots, spats, rubber gum boots)
Eye protection (goggles, glasses, face shields)
Body protection (aprons, overalls, gloves, high visibility clothing)
Any substance used to protect health, for example, sunscreen and/or long sleeved shirts and pants.
Tip 2 – SLIPS, TRIPS & FALLS
Wear the correct shoes for the job and the area you work in
Don't run!
Wear a harness in elevated working positions
Report spillages
Obey 'Wet Area Signs'
Don't jump over objects. Walk around them.
Ensure:
Good lighting in the workplace
Flooring is 'non-slip'
Use of correct apparatus (e.g. step ladders, ladders)
Apparatus is on level ground before standing on them
Tip 3 – Signage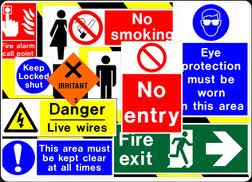 Be aware of and obey workplace safety signage!
Tip 4 – Fire Exits
Entry to and exit from a workplace should be safe:
Clearly mark all exits
Clearly mark direction to all fire exits
Ensure pedestrian and mobile equipment (e.g. forklift) have separate entries/exits
Keep aisle ways clear and clean
Do not block fire exits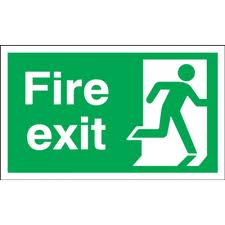 Tip 5 – Housekeeping
'A Place for Every Thing, Everything In its Place'
Housekeeping is the responsibility of ALL Staff, ALL the Time!
Do not obstruct stairwells.
Leave aisles and walkways free of all products and pallets.
Fire fighting equipment and exists must have unobstructed access at all times.
Adhere to employer waste management procedures.
Chemicals, solvents, flammable materials and other hazardous products must be stored appropriately and in their proper cabinets or store areas.
Good plant cleanliness is the responsibility of ALL Staff.
Areas around the work site must be left clean. Plant cleanliness plays an important role in accident and disease prevention.
Oil spills, metal shavings, cardboard, paper and plastic refuse can cause slips, trips and falls.
Discarded ear plugs, rags and disposable face masks can harbour disease.
Pick up rubbish and place it in bins provided.
Together we can help make the workplace a safer place!
Tip 6 – Lifting, Carrying and Bending
Always practice correct lifting techniques:
Do not overload yourself
Have a good footing and balance
Stand as close to the load as possible
Get a firm and secure grip using the palms of your hands
Bend at the knees, keeping your back in a straight plane
Use your strong leg muscles to raise the load, keeping it close to
your body
When turning, turn the whole body – not just at the waist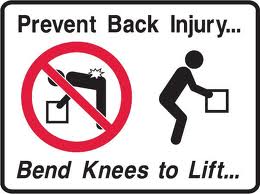 Tip 7 – Operating Equipment
Are you licensed or trained to use equipment?
Do not operate equipment if you are :

Unlicensed (e.g forklift)
Untrained (machinery)
Not wearing the proper personal protective equipment

Have you been notified or aware that the equipment/machinery is
faulty?
Then do not use the equipment!
Use the machine for what it is intended to be used for.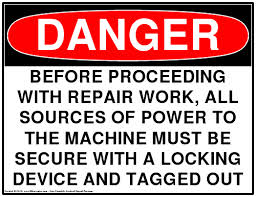 Tip 8 – Use Legal or Illegal Drugs or Alcohol
Misuse of drugs and alcohol in the workplace can cause risks!
Advise your supervisor of any medication you have been prescribed.
Self harm and injury to others can be the result of the misuse of drugs and alcohol.
Through a strong WH & S policy, good workplace education, observation, communication and information can prevent drug and alcohol related hazards.
Tip 9 – Harassment
Repeated unreasonable direct and indirect behaviour towards an employee/employer or group of employees/employers is considered bullying and creates a risk in health and safety.
A broad range of behaviour can be considered as bullying.
Risk management of bullying involves a staged prevention:
Identify
Access
Implement risk controls
Review and improve measures
Tip 10 – Host Employer
The Host Employer has:
The authority and control of the workplace where you will work and over the duties that you will perform.
A legal responsibility to ensure that all staff are properly inducted and that the same rules apply to casuals as to your own staff with respect to WH & S.
To ensure temps have adequate supervision, safe operating procedures and monitor, review and evaluate safety systems.
Induct employees which should cover aspects such as Manual Handling, Emergency + First Aid, Personal Protective Clothing, Housekeeping, Hazardous substances, Slips, Trips and Falls and obviously any important information about the workplace and its WH & S Policies.